The Osprey - trimaran sailing canoe
The Osprey is not currently in production - pictures and details are included here for reference/special orders only.
We are concentrating on Shearwater EVO sailing canoe, Little Egret & Quetico - please have a look.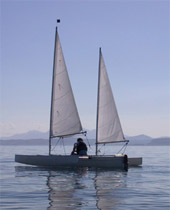 The Osprey is a Cruising Trimaran
LOA 16ft.
Beam 10ft.
Outrigger length 12ft
Approximate stripped weight of main hull -90lbs.
Approximate assembled and rigged weight -180lbs.
Free standing Bermudan Ketch rig
Sails quick and easy to reef or stow on the water
Sail area 75sq ft
When the wind dies it can easily be paddled
Dedicated launching /portage trolley
Will take two people daysailing or one person plus lots of camping gear
Car toppable
Osprey is our most seaworthy, most comfortable, easiest to sail and fastest sailing canoe. It can be assembled and disassembled in about 10 minutes without tools. It is car toppable, although it is a heavier load than our other sailing canoes.

Osprey is a fast comfortable expedition boat. She has lots of stability and with a modest rig she is almost uncapsizable. The outriggers have a buoyancy of over 200lbs each on a 10ft beam. We have logged speeds of around 12 knots and she will cover the ground faster than our other sailing canoes. She can be paddled at 3 knots with a double paddle when the wind dies.
Providing you have some helpers an unexpected but most valuable feature of Osprey is that it is very easy to carry over rough ground. The beams provide an easy and balanced two handed lift with a good view of where you are putting your feet. With the portage trolley it can be moved and launched by one person, provided that the ground is not too rough.

Stability makes it easy to reef or furl the sails on the water.
An experimental staysail (above centre). Fun in light airs and it certainly makes the boat go faster. However it restricts your visibility, takes time to set up and complicates tacking.
Osprey Prices:
Osprey with GRP main hull & outriggers: £6,800
Osprey with Carbon Kevlar main hull & GRP outriggers: £7,300
Osprey with Carbon Kevlar main hull & outriggers: £7,700